ABC-Denver TV Channel 7 Everyday Hero video.
Because aviation education and aviation heritage preservation are so important to me, I have been teaching pre-schoolers and elementary students dressed in historic costume as "Penny, The Pilot," for almost 25 years. The Federal Aviation Administration (FAA) recognized this important General Aviation outreach with their prestigious "Central Region Aviation Education Champion Award." Recently, my years of "Penny, The Pilot" aviation education programs for children was recognized with the ABC-Denver TV 7 Everyday Hero award.
In 1994, the FAA named a Colorado holding intersection just west of Corona Pass after my many years of volunteer aviation education service. According to the April 14, 1994 Winter Park Manifest newspaper article, "When the FAA proposed to name the new holding intersection for Penny Hamilton, they tried to match the exact spelling of her first name, "Penny," but found that spelling was already in use in some other part of the airway system. Fortunately the computer found that "Peney" was available and so the new holding intersection is shown as "PENEY" on aeronautical charts." I am the co-holder of a World Aviation Speed Record set October 22, 1991.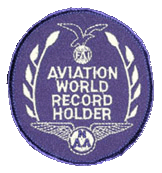 In 2011, I became a Laureate of the Colorado Aviation Hall of Fame for my years of aviation education and historic preservation and promotion.
TEACHING WOMEN TO FLY
With the encouragement and partial grant support from the Wolf Aviation Fund in 2008 to 2010, I was able to conduct extensive research into ways to promote women's success in General Aviation (GA) Flight Training. (See www.teachingwomentofly.com for results and 101 ideas to increase the number of females participating in GA.)
Many national magazine and e-zine articles and aviation conference programs have resulted and are planned based on the Teaching Women to Fly Research Project of which I am the current volunteer Director.
I have promoted aviation to adults and children alike, which was graciously covered in the blog Flight to Success
COLORADO AIRPORT HISTORY PRESERVATION PROJECT
Because so much of our aviation history is being lost, working with a large network of Colorado volunteers, we are preserving and publishing on-line some of our aviation heritage at www.coloradoairporthistory.com The primary focus is collecting and linking the history of Colorado's 74 public-use airports, with the partial grant support of Colorado Humanities and the National Endowment for the Humanities. Links to Colorado Aviation Museums and aviation heritage preservation sites and stories are also published on the Colorado Airport History Preservation Project web site.
I am a founding member and curator of the Emily Warner Field Aviation Museum, and on the Advisory Board of the Spirit of Flight Foundation. I am an active member of the Colorado Pilots Association, Colorado Aviation Historical Society, Experimental Aircraft Association Chapter 1267, International Ninety-Nines Colorado Chapter, National Aeronautic Association, National Association of Flight Instructors, Wings Over the Rockies Air & Space Museum, Women in Aviation International (WAI), and an Honoree in the International Forest of Friendship in Atchison, KS.